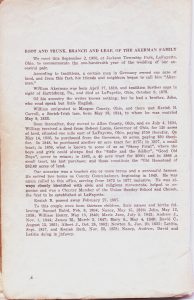 When the Ackerman Cousins first created the book they new little about John and Nancy.  However they do mention William had a brother John who spoke little English suggesting he was speaking German, why? From what we have found is that William did have a brother John.  However he was born two years after William which suggest he would have been speaking English. We also know his father John was second generation American being his father First generation Paul came to America in 1771. So I believe they got it wrong and it should be William's father John spoke little English having been raised by Paul.
We are pretty sure that Nancy was a nickname for Anna or perhaps even a middle name. Many many women were named Anna and most went by their middle name.  Nancy was born in 1788 and was third generation. Current research show her father was John Baird and her grandfather as Thomas Baird or Beard.
John and Nancy had four children, Maria born in 1806, William born in 1810, John born in 1812 and Jane born in 1813. Since the book was published we have learned about the lines Maria, Jane and now learning about John Jr.
Maria was born 26 Dec 1806
William was born 17 Apr 1810
John was born 1812
Jane was born 13 Sep 1813